Attendance and Absence
Regular attendance is vital for success both at school and in the workplace. Good attendance constitutes above 95%.
90% in a test is a good score; 90% attendance isn't – it's the same as having nearly 4 weeks off school in a year! The impact of attendance on GCSE grades is stark.
| | | | | |
| --- | --- | --- | --- | --- |
| Attendance Percentage | Number of SESSIONS missed | Equivalent Number of DAYS Missed | Equivalent Number of WEEKS Missed | Equivalent Number of LESSONS Missed |
| 100% | 0 | 0 | 0 | 0 |
| 95% | 19 | 9.5 | 2 | 48 |
| 90% | 38 | 19 | 4 | 95 |
| 85% | 57 | 28.5 | 6 | 143 |
| 80% | 76 | 38 | 8 | 190 |
| 75% | 95 | 47.5 | 9.5 | 238 |
| 70% | 114 | 57 | 11.5 | 285 |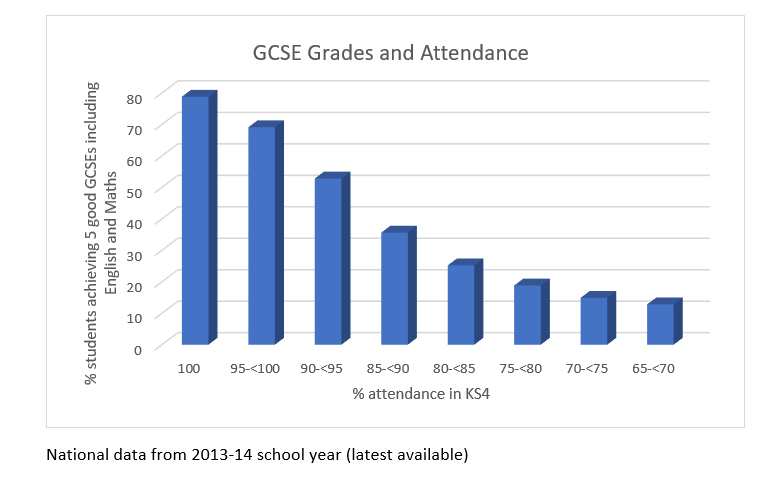 Attendance Concerns
If you have concerns about your child's absence, or if you feel that there are barriers to your child attending school regularly, please contact his/her form tutor.
Because of the significant impact it can have on attainment and welfare, we closely monitor the percentage attendance of all of our students. We will contact parents/carers if their child's attendance falls below 96% for any reason, and we will explore ways in which we can help you to support your child to attend regularly.
You can monitor your child's percentage attendance through the Satchel One app. Please make sure you have logged in as a parent so that you can see this information.
Reporting an Absence
If you know in advance that your child will be absent, for example for a medical appointment (not for holiday) please text 01993 402039 with full name, tutor group, dates of absence and reason for absence.
If your child is ill, please text 01993 402039 by 9am on the day of absence, giving name, tutor group and reason for absence. Alternatively, please phone 01993 703955 and leave a message. You are asked to do this on every day that your child is absent. Medical evidence may be requested on the third day of absence.
First contact is operated for all students in Years 7, 8, 9, 10 and 11.
If we do not receive a call or text and your child does not arrive in school, we will text you to let you know. It is therefore vital that we have accurate contact numbers.
"First Contact" enables us to quickly determine that a student who is absent is genuinely ill and safely at home. In the past, we could not be sure of this until an absence note was supplied on the student's return.
It is also true that some students will consciously stay away from school without a medical reason. We need to know when this is happening because a pattern of truancy is easily established and often hard to break, now and in later life.
Late arrival to school
If your child arrives after the end of tutor time, they must go straight to reception to sign in before going to their lesson. Arriving late after tutor time will impact your child's attendance record.
Absence in Term Time (non-medical)
The headteacher is only permitted to authorise absence in exceptional circumstances. If you wish to request absence in term time for your child, please download an application form here or contact Reception (tel. 01993 703955). Completed application forms should be sent to the Headteacher four weeks in advance of the absence requested. Application forms should also be completed for compassionate leave requests and as much notice as possible is requested.