Henry Box School Association (PTA)
Our committee is:
Chair
Charlie Edwards
Treasurer
Sorrell Woodruff
Secretary
Jen Beadle
Officer
Kyly Harper
Officer
Rachel Way
Officer
Tracey Want
and a team of highly valued volunteers!
As families of a student coming to the school you will automatically be a member of the Henry Box School Association (HBSA) but taking a more active role will give you a chance to make a real difference. By helping out with raising funds for extra resources and equipment in the school and contributing to fun events for parents and students alike you will gain a greater insight into school life, meet new people and achieve great satisfaction. If you would like to volunteer, please email us: henryboxschoolassociation@gmail.com.
Being part of this team and supporting our school need not be onerous on your time, even helping for half an hour at an event would be valued.
The HBSA is focusing its fundraising on improving the outside areas of the school grounds, and are looking into ways to improve the space, and offer greater choices of activities for lunch and breaktimes, as well as continuing to support the classroom needs of resources and equipment.
How to Help Straight Away!
Easyfundraising
One very easy way you can help us raise money for the school is to sign up to Easyfundraising:
Did you know that whenever you buy anything online – from your weekly shop to your annual holiday – you could be raising a free donation for the Henry Box School Association? There are nearly 3,000 retailers including Amazon, John Lewis, Aviva, Marks and Spencer and Sainsbury's, who will donate a percentage of the amount you spend to the HBSA to say thank you for shopping with them. Its' really simple, and doesn't cost you anything.
All you have to do is:
Go to Easy Fundraising
Sign up for free
Get shopping – donations will be collected by easyfundraising and automatically sent to the HBSA. It couldn't be easier!
There are no catches or hidden charges and the HBSA will be really grateful for your donations. Don't forget to download the reminder tool, so you never miss the opportunity to support us.
Please keep an eye out in future school correspondence for any upcoming events that you can support us at.
500club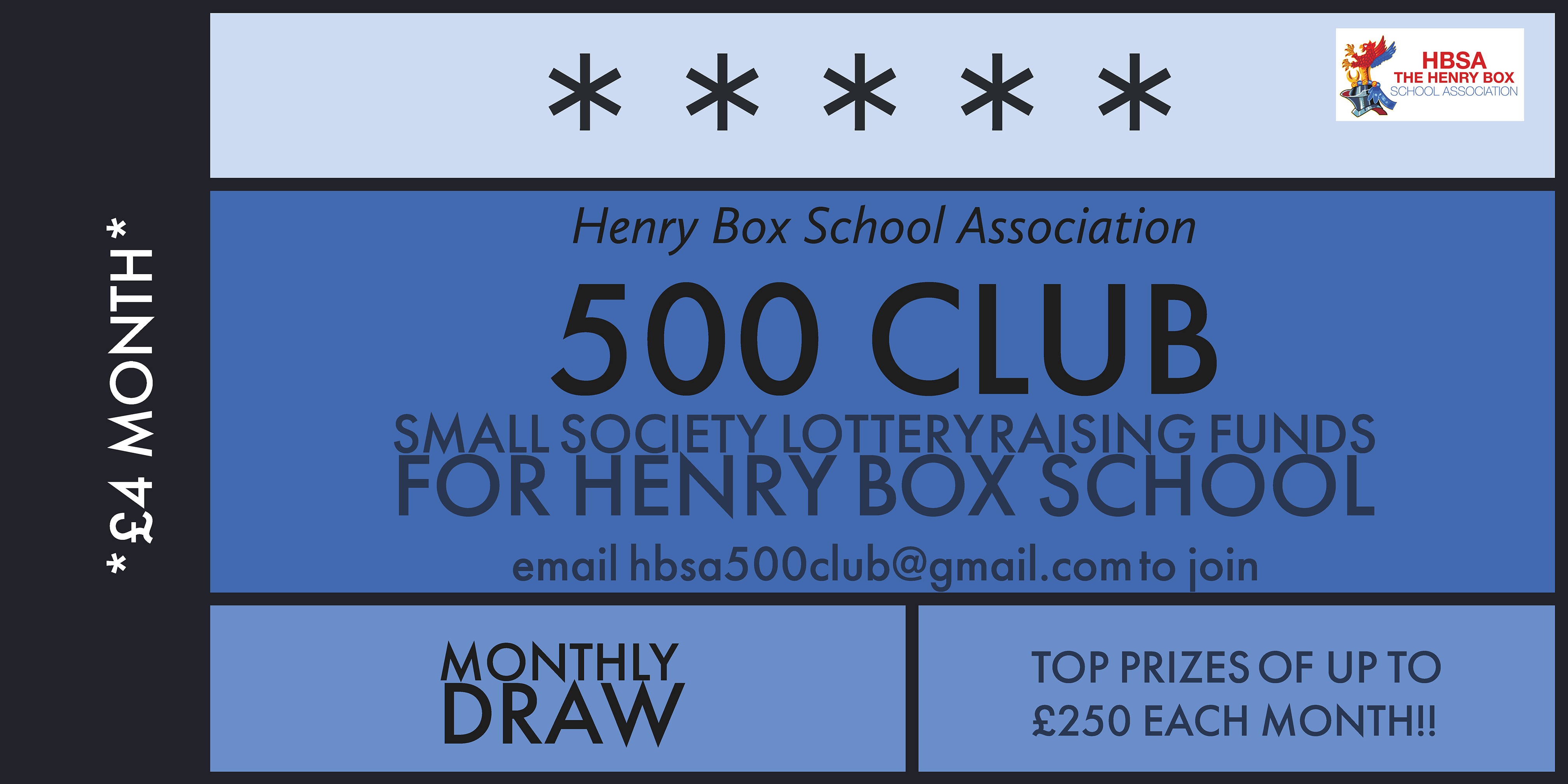 Welcome to our 500 CLUB – a great way for you to support us whilst having a bit of a flutter!

Here's how it works…
The 500 Club is a monthly lottery, the proceeds of which will be used to raise funds for the school. You can take part by setting up a monthly subscription through PayPal or by standing order from your bank.
Please complete and sign the signup sheet and email it to
hbsa500club@gmail.comWe will then either email you the link to sign up to your PayPal subscription or, if you do not use PayPal, we will email you a standing order mandate.
The cost is only £4 a month per ticket. You may purchase more than one ticket.
This buys you one membership number per ticket (we will allocate), which enters you into the monthly draw.
Signing up is simple; complete the Micorsoft form in the link below:
Facebook
Please visit the HBSA Facebook page.
It's good for your children. It's good for you. It's good for the school.