Careers Fairs, Open Days and Careers Events
The Henry Box School Sixth Form
Click here for further infomation about our Sixth Form.
Other local sixth form open evenings are taking place from September and further details can be found on their websites.
Abingdon and Witney College
Open Days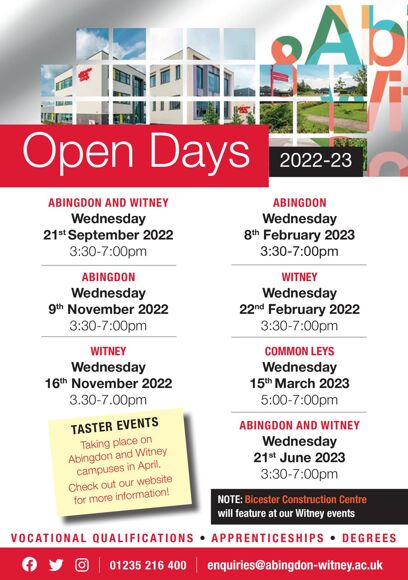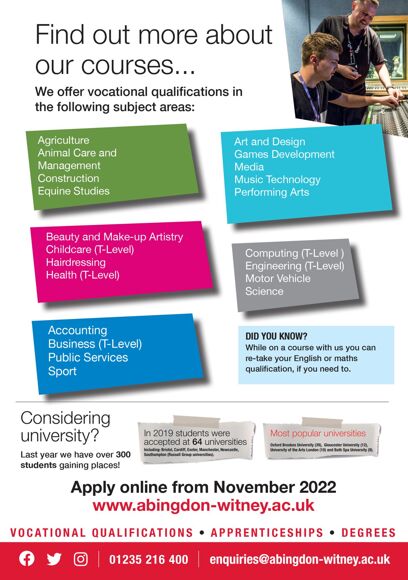 The link below allows people to pre-register however this is not essential and it's fine to just turn up on the night.
Events - Abingdon & Witney College (abingdon-witney.ac.uk)
Chipping Norton Vets: Veterinary Nursing
Thursday 18th May 2023 at 7:30pm
Chipping Norton Vets are hosting an open evening at their practice which will include a presentation about a career as in Veterinary Nursing and routes into this career. therewill also be opportunities to find out about other roles including Veterinary Sergeon and Animal Nursing Assistant.
If you are interested please email info@chippingnortonvets.co.uk or phone 01608 642547 to reserve a place.
Website: https://www.chippingnortonvets.co.uk/
Find Your Future
Find your Future, OxLEP's online careers platform for young people, parents and carers.
Access information and inspiration about your future under one virtual roof:
Visit 100 different pods to learn about the different employment sectors and businesses available across Oxfordshire
connect with local and national employers
research Post 16/18 options including- A Levels, colleges, apprenticeships and universities
Website: https://www.oxfordshirelep.com/skills/our-programmes/find-your-future
Future Frontline
For students who are interested in a career in healthcare. Future Frontline is a registered not-for-profit CIC run by a team of UK healthcare students and professionals.
Here are two exciting virtual events to find out more about a carer in healthcare.
Alternative Routes Into Healthcare - free virtual event on Sunday 18th December from 6-7pm. This webinar will be a chance to hear from speakers who have taken access courses, done an apprenticeship or gone straight into working as a healthcare professional. Speakers include a dental nurse, nursing associate who is now a student nurse & a NHS manager. Students can sign up for this free event here.
Virtual Healthcare Careers Fair - 11:00-13:00 on Saturday 14th and Sunday 15th January 2023 for year 11, 12 and 13 students. Students will have the opportunity to hear from 20 different NHS healthcare professionals over the course of the weekend and it will be a great opportunity for them to discover different career options in healthcare and to hear tips for how to get into the professions. Students can sign up for day 1 tickets here and day 2 tickets here.
Please see the poster in teh documents section below.
Website: www.futurefrontline.co.uk
NHS South Central Ambulance Service
Students interested in a career with the Ambulance Service
The South Central Ambulance Service are offering a series of virtual live chats in 2023:
Wednesday 11th January at 6pm: Apprentice Emergency Care Assistant
Wednesday 25th January at 6pm: How to become a Paramedic
Wednesday 8th February at 6pm: A career in our call centres
Wednesday 22nd February at 6pm: How to become a Paramedic
These live chats are a great way for participants to learn about key roles available across the Trust and to hear from the wonderful teams who are out there doing these roles day in, day out!

The live chats will offer lots of hints and tips on starting a career with the Abulance Service and allow all attendees to ask any questions of the experts!
Anyone interested, needs to register for these sessions, further details can be found on our website: www.scasjobs.co.uk
There is a poster below in the documents section.
Oxford Brookes University
Campus Tours
The best way to find out if Oxford Brookes is the right place for you is to explore our campuses and chat to current students. Discover their award-winning academic spaces, check out their lecture halls and workspaces and walk through their state-of-the-art library, sports facilities, cafes and more.
Tours are led by a Student Ambassador and last approximately 45 mins each. Student Ambassador will share insights to their own experiences at Brookes, and of course, will be on hand to answer any questions you may have.
Click this link: Campus Tours available to book. If you would like to to visit in person before the UCAS deadline, including tours on weekends.
Summer Schools - July 2023
Coming Soon: Brookes Summer Schools will begin accepting applications in January 2023.
Summer Schools will give you the opportunity to discover what being a university student is all about, and delve into a subject area of your choice. Summer schools provide the perfect opportunity to help you decide whether university is right for you and also the opportunity to explore a wide range of subjects.
Click the link: Brookes Summer School for application details. Application deadline: 17 April 2023
Useful Links:
Abingdon and Witney College Open Days and Events
Oxfordshire Football Development (OFD)