Careers Fairs, Open Days and Careers Events
The Henry Box School Sixth Form Open Evening
Click here for further infomation about our Sixth Form.
Other local sixth form open evenings are taking place from September and further details can be found on their websites.
BMW
Applications for BMW Mini Plant Oxford 2021 Apprenticeships are now open! BMW are holding a series of virtual Open Events giving you the opportunity to meet current apprentices, training and recruitment teams, ask questions and find out more about the jobs on offer - Tuesday 9th February, 18:00-19:30: opportunities with Rolls-Royce Motor Cars, Goodwood. Wednesday 10th February, 18:00-19:30: opportunities at MINI Plants Oxford and Swindon. Thursday 11th February, 18:00-19:30: opportunities at BMW Group Plant Hams Hall. Students interested in applying for the four year Maintenance Apprenticeship and Engineering Apprenticeship, or the three year Business Apprenticeship, can now find full details at: https://www.bmwgroup.jobs/gb/en/opportunities/apprentice.html#jobType=APPRENTICESHIP&&location=GB,GB/Farnborough,GB/Goodwood,GB/HamsHall,GB/Oxfordshire,GB/Swindon
Closing date for applications is Sunday 14th March 2021.
Engineer your career
A virtual & free event showcasing the best of UK engineering talent & employers. Attendees will gain valuable insights into different engineering roles and organisations www.campusmedia.co.uk/engineer_your_career/
Find Your Future
Find your Future, OxLEP's online careers platform for young people, parents and carers.
Access information and inspiration about your future under one virtual roof:
Visit 100 different pods to learn about the different employment sectors and businesses available across Oxfordshire
connect with local and national employers
research Post 16/18 options including- A Levels, colleges, apprenticeships and universities
Discover tips on the skills employers are looking for, CV writing and how to succeed at interviews

The Find Your Future platform is available for a year so there's plenty of time to explore this excellent and informative event. To find out more and access the parents/carers guide click here.
Hartpury College
Hartpury College has two virtual open days coming up, Saturday 27th February and Saturday 20th March. If you have any students that would like to attend, they can book using the following link: https://www.hartpury.ac.uk/college/open-days/ Hartpury University's next virtual open day is Saturday 6th March 10am-4pm https://www.hartpury.ac.uk/university/open-days
London Academy of Music & Dramatic Art
(LAMDA) OPEN DAY Production and technical arts open day 13th March 2021 at 10am - 12 noon https://www.lamda.ac.uk/whats/production-technical-arts-open-day
NHS
Below are some exciting NHS career insight events that are coming up:
Men into Nursing 10th May: 5-6pm https://www.eventbrite.co.uk/e/nhs-virtual-taster-day-nursing-careers-for-men-tickets-147747271065 An exciting virtual career insight event which is aimed at students across the South East either at school or college and considering a career in Nursing or roles related to Nursing.
This SE Aspiring Nursing Associates webinar will showcase the Nursing Associate role, a pivotal role within the Nursing family.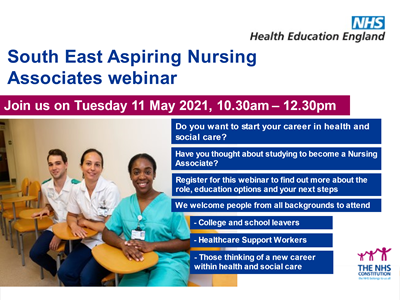 Non-Clinical Roles This event will showcase different roles available in the NHS that do not involve directly working with patients such as Business administration, estates, and IT for example. 8th June: 5-6pm https://www.eventbrite.co.uk/e/nhs-virtual-taster-day-non-clinical-roles-tickets-147748420503
Oxfordshire Advanced Skills (OAS)
Oxfordshire Advanced Skills Open event https://www.oas.ukaea.uk/virtualopendays/
OAS meet the employers including Williams, Abbotts, UKAEA, GKN, Diamond Light Source, Jacobs, OAS and STFC (Harwell). Wednesday 3rd March 5-7pm Meet the Employer - Oxfordshire Advanced Skills (ukaea.uk)
The Science and Technology Facilities Council (STFC)
The Science and Technology Facilities Council (STFC) are holding a virtual Apprenticeship Open Evening on Thursday 11th February 2021, 18:00-19:00. The event will give students the opportunity to find out more about the Advanced Engineering Apprenticeships advertised in last week's Career News, as well as about other apprenticeships on offer in 2021, including ICT, Computing, Business Administration, Heating and Ventilation, Carpentry and Lab Technician. For further information and to register: https://www.eventbrite.co.uk/e/stfc-ral-virtual-apprenticeship-open-evening-2021-tickets-135670800015
UK University & Apprenticeship Search Fair

Wednesday 17th March 12pm - 6pm 100+ Exhibitors
ukunisearch.vfairs.com/
West Oxfordshire Learning Partnership
West Oxfordshire Learning Partnership will be running a Virtual Careers Fair on the 24th March.
Useful Links:
Abingdon and Witney College Open Days and Events
Oxfordshire Football Development (OFD)