E - English
MEET THE STAFF
Helen Hawkins (Head of Department)
Alex Todd (Assistant Faculty Lead i/c of Progress)
Louisa MacKenzie (Lead Practitioner – Teaching and Learning)
Rachel Maltas (KS5 Co-ordinator)
Phil Trinder
Olivia Thomas
Andrew Jarrett
Zena Lanczak
Jo Woodbury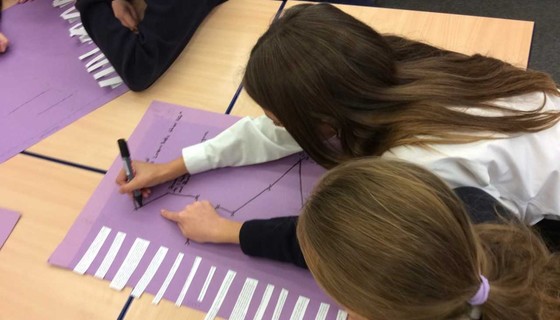 ENGLISH AT KEY STAGE 3
In Years 7, 8 and 9 students have seven lessons a fortnight, including one Library lesson. The year group is divided into mixed ability groups, sometimes with a small nurture group depending on the needs of the cohort. The curriculum is designed around developing key skills of reading, writing and speaking and listening through a range of units, exploring more complex ideas, texts and concepts in each year. Typically, each unit has both a reading and a writing assessment. We use the AQA Assessments throughout Key Stage 3 to ensure a solid preparation for the GCSE course.
Term

Year 7

Year 8

Year 9

1

Prose Text

The Boy in the Striped Pyjamas

The Ruby in the Smoke

Shakespeare Play

Much Ado About Nothing

Prose Text

Of Mice and Men

Curious Incident of the Dog in The Night-time

2

Prose Extracts

A Christmas Carol

Discoveries and Inventions

Non-Fiction & Fiction – Paper 2 Skills

Journeys

Fiction and Non- Fiction Reading and Writing with Paper 1 & 2 Skills

3

Creative Writing

Narrative writing/writing to describe

Prose Text

Animal Farm

Detective Fiction

Creative Writers, Professional Writers

Fiction & Non-Fiction Reading and Writing with Paper 2 Skills

4

Shakespeare Play

The Tempest

Gothic Horror

Creative Writing and Paper 1 Skills

Shakespeare Play

Twelfth Night/

A Midsummer Night's Dream

5

Non-Fiction Writing

Writing to argue / persuade / present a viewpoint

Non-Fiction Writing

Writing to Inform and Explain

GCSE Preparation

'The Sign of Four' and Paper One

6

Poetry

Introduction to Poetry

Poetry

Other Cultures and Traditions

GCSE Preparation

'The Sign of Four' and Paper One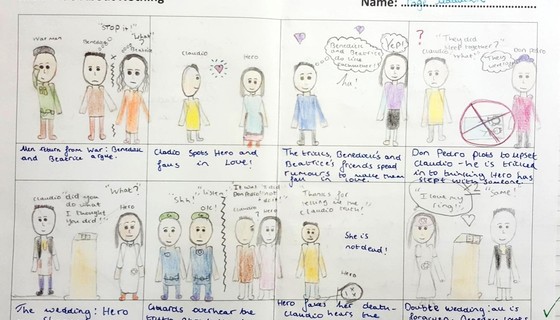 ENGLISH AT KEY STAGE 4
Most students study two GCSES in their English lessons; English Language and English Literature. In English Language students develop skills in reading, writing, speaking and listening. In English Literature they study a range of texts, developing analytical skills and understanding of the literary genres of prose, poetry and plays.
In addition, some students also have the chance to work towards Level 1 and 2 (GCSE equivalent) English qualifications such as the L1/ L2 certificates and/or Functional Skills which are valued by colleges and can be a good alternative to GCSE.
All subjects are from the AQA exam board.
Each unit is designed to build skills needed in all areas of English. The below table outlines key content covered. Students begin Key Stage Four in Terms 4 and 5 of Year 9 to prepare them for the demands of the GCSE course.
Year 9

Term 5

Attitudes Through time: An Introduction to Context

Term 6

Unseen Poetry and Spoken Language
| | |
| --- | --- |
| | Year 10 |
| Term 1 | Modern Text |
| Term 2 | Poetry |
| Term 3 | English Language Paper 2 |
| Term 4 | 19th Century Novel |
| Term 5 | English Language Paper 1 |
| Term 6 | Revision and Trial Exams |
Year 11

Term 1

Shakespeare

Term 2

English Language Paper 2 and Trial Exams

Term 3

Unseen Poetry

Term 4

Revision

Term 5

Revision
ENGLISH AT KEY STAGE 5
Key Stage 5 Overview
The A level course has a thematic element. The theme that will be studied is LOVE THROUGH THE AGES. The second element of the A level course is INDEPENDENT CRITICAL STUDY: TEXTS ACROSS TIME. This means that a variety of texts will be studied around the theme of 'Love', specifically human relationships.
All students will study the following texts in preparation for their exams:
A selection of pre-1900s poetry
Othello by William Shakespeare
Atonement by Ian McEwan
Feminine Gospels by Carol Ann Duffy
A Streetcar named Desire by Tennessee Williams
The Handmaid's Tale by Margaret Atwood
The students will also study The Yellow Wallpaper by Charlotte Perkins Gilman and A Doll's House by Henrik Ibsen in preparation for their non-exam assessment. The task involves the student self-selecting a post-1900 text to compare to one of these texts, although some students may wish to explore another pre-1900s text in their essay.
Some students may go on to study additional texts:
A Room with a View by E M Forster
Revolutionary Road by Richard Yates
Spies by Michael Frayn
Translations by Brian Friel
Students will develop skills in unseen reading by approaching a variety of different extracts from different time periods and genres.
ENRICHMENT
The department offers a range of Enrichment activities that change regularly. Currently, there is a creative writing club every Wednesday lunchtime, and debating clubs for all levels. Our debating club has been extremely successful in recent years, winning the "Youth Speaks" Competition at both Intermediate and Senior levels. In addition, we have sent teams to participate in Oxford Union training and in competitions such as "Debating Matters" and "Oxford Schools".
We also work closely with Mrs Jones in the Library Centre to arrange visits from authors such as Cathy Cassidy and Marcus Sedgwick.
TRIPS
We offer a range of trips each year depending on availability. In recent years we have offered very popular trips to see theatre productions of "The Curious Incident of the Dog in the Night Time", "Matilda" and a range of Shakespeare plays.
AFTER SCHOOL CLUBS OFFERED
English Clinic runs every Wednesday in Ea12 after school (2.05pm to 3.05pm) for Key Stage Four students who would like help with any aspect of their English work.
USEFUL LINKS
GCSE English Language - There are currently no past papers for these exams, but details about the course can be found here.
There are currently no past papers for these exams, but details about the course can be found here: http://www.aqa.org.uk/subjects/english/gcse/english-literature-8702
Past papers and mark schemes for the AS and A Level course. AQA Assessment resources.
BBC Bitesize GCSE Revision - useful revision tips for GCSE students with interactive quizzes.
The Carneige Medal- The official website of the Carnegie medal children's book prize.
The Poetry Society - Aims to promote the study, use and enjoyment of poetry.