Art underpins our varied cultures and we teach from the starting point that art makes the world a better place. Art is one of the first forms of communication and therefore vital for personal development, health and wellbeing. Art encourages diversity, inclusivity and achievement for all learners and draws upon rich cultural heritage, digital and creative industries; ever important in our visual world.
Key Stage 3
The course introduces students to a range of experiences in art. Students' knowledge is developed using a variety of materials and techniques. The study of other artists' work underpins all learning. The aim is to build deep knowledge in the subject and to build on that knowledge sequentially.
Key Stage 4
Our Year 10 and 11 students follow the AQA Art and Design GCSE syllabus. There are two components: Unit 1 60%: Coursework Portfolio and Unit 2 40%: Externally Set Assignment. This work is internally assessed and externally moderated.
Students develop knowledge and understanding during the course through a variety of learning experiences and approaches, including engagement with sources. This will allow them to develop the skills to explore, create and communicate their own ideas.
Students will demonstrate these skills through the development, refinement, recording, realisation and presentation of their ideas through a portfolio and by responding to the externally set assignment
Students are taught to develop enquiring minds, be creative, confident, adaptable, skilful and be able to express themselves through a variety of media. We teach our students to use the art studios, equipment and materials with independence and confidence.
Key Stage 5
In Key Stage 5 we offer OCR A Level Fine Art. Component 1: Personal Investigation 60% of A Level is non exam assessment; internally assessed and externally moderated. Students will produce two elements: a portfolio of practical work showing their personal response to either a starting point, provided by the learner or school and a related study: an extended written response of a minimum of 1000 words.
Component 2: Externally Set Assignment, 40% of A Level issued 1 February of Year 13. Students choose from a number of starting points; their response will be based on one of these. The Externally Set Assignment is 15 hours, internally assessed and externally moderated.
Students are introduced to a wide range of artwork and contemporary practice developing visual literacy and creativity in the context of the wider world. As with the Stage 4 course, lessons are workshop and skills based, as students develop their learning, lessons become bespoke catering to individuals' requirements. We ensure that students are equipped with the important skills of interpretation and enquiry necessary for understanding contemporary art; it is vital as a tool to negotiate our world of visual complexity and the richness around us.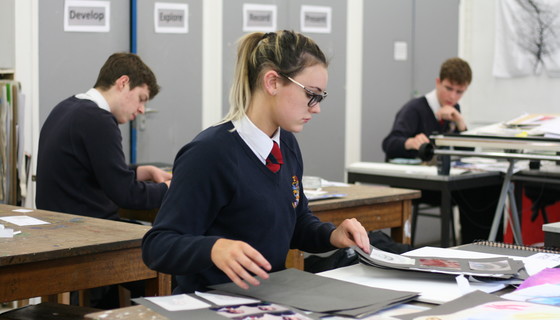 Art and Design - Year 10 Knowledge Organisers
Art and Design - Year 11 Knowledge Organisers
Art and Design - Year 7 Knowledge Organisers
Art and Design - Year 8 Knowledge Organisers
Art and Design - Year 9 Knowledge Organisers