Year 10 Work Experience July 2024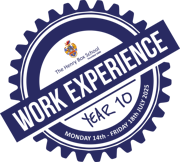 Career Connect are happy to inform you that, having run a successful in-person work experience in July 2023, we aim to offer this opportunity again to our current Year 10 students at The Henry Box School from 15th to 19th July 2024.
In 2023, students worked in a wide range of employment sectors with companies such as Marks and Spencer, Waitrose, MG Group, Smarts Repair Centre and Bodyshop, Truck Music and Burford Golf Club. Employers were overwhelmingly positive in their feedback, here are some of their comments
'Our Henry Box work placement student has been reliable and enthusiastic and most importantly asked questions if they were unsure how to do something.'`

'Our Henry Box work placement student was the best work placement student we have ever had. They fitted into our team well and everyone enjoyed working with them'

'We work in a very hectic environment, so it was important for our work placement student to listen carefully when they were given instructions. We were impressed by their attitude and how seriously they approached their tasks'

'Our work placement students went above and beyond in their role, in just a few days they felt like a part of the team'
Students felt their experience helped them to understand the skills they need to develop for employment, some of their quotes
Students felt their experience helped them to understand the skills they need to develop for employment, some of their quotes.

'I really enjoyed experiencing a different environment to school, it gave me an insight into what I can expect in a job in the future'

'I really liked being part of a team, at school you don't get to experience this that often. It made me look forward to starting a career.'

'I was worried about not knowing anyone at my placement, but everyone was very friendly and welcoming. It is very different to the school environment, and I really enjoyed it'

'It made me realise what skills I will need to be successful in a career. Listening to instructions and not being afraid to ask questions were really important!'

'It wasn't the sort of job I want to do when I leave school, but I still enjoyed the week and felt it helped my confidence a lot'
The placements will take place during the week 15th to 19th July. We appreciate your on-going support and look forward to students enjoying their experiences.
If you have any questions, please direct any queries to Chloe Elliot, email: Chloe.Elliot@careerconnect.org.uk
Students will be required to find their own placements. Students will receive information and support about how to do this and they will be supported by staff in school should they have further questions.
Year 10 Work Experience handout
Year 10 Work Experience Placement Form Students should complete the online form above by no later than 4th March.
Year 10 Work Experience Parent Handout