School Calendar (What's On)
CANCELLED: Years 10 to 13: Apprenticeship Recruitment Fair
26th March 2020
18:00 - 20:00
The Marlborough CofE School, Woodstock
Apprenticeship Fair – Thursday 26 th March 2020 at 6pm
At this time of year students in Year 11 and the Sixth Form will be seriously considering their future career pathways. An increasingly popular option for consideration is the apprenticeship pathway, which provides the opportunity to gain a recognised qualification even leading to a degree, whilst earning a salary, supported by some of the UK's best companies.
We would like to invite you to this final apprenticeship event for this academic year, which being held in the Marlborough Enterprise Centre from 6.00pm on Thursday 26 March 2020.
The evening will start with presentations held in the Dining Hall at 6pm. Apprentices, Ryan Murphy, Level 3 apprentice from Jacobs Douwe Egberts, Banbury and Emma Hancock, Level 6 Degree apprentice with STFC, Oxford, will share with you their personal journeys. Following the presentation, a large variety of exhibitors will be based in the MEC and sports hall, consisting of employers with live vacancies, training providers and colleges who will be happy to talk to you about the many opportunities, including apprenticeships, and advise you on the processes involved.
Employment sectors attending include; Accountancy, Aeronautical Engineering, Business, Civil Engineering, Construction, Cyber Security, Electrical, Engineering, Estate Agents, Hair & Beauty , Health Care, Hospitality, IT and Website Management, Manufacturing, Marketing, Plumbing, Retail, Research and Development, Site Management, Sport, the Armed Forces, The Engineering Trust, ACE Training and many, many more.
There is no need to book. We look forward to seeing you.
Yours sincerely
Amanda Dickson
Careers Leader - The Henry Box School on behalf of the West Oxfordshire Learning Partnership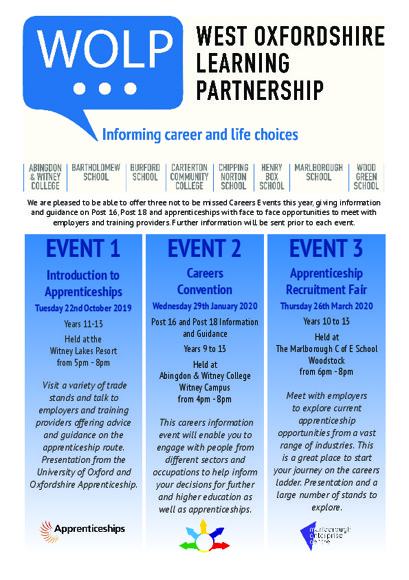 Headteacher:
Ms W J Hemmingsley
Church Green, Witney,
Oxfordshire, OX28 4AX