News
Social Science Festival 2018
Posted on: 25/10/2018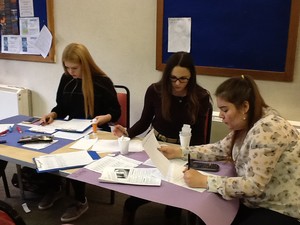 On the 17th October 2018 over forty Year 12 Geography, Psychology, Religious Studies and Sociology A level students based themselves at St Mary's Church to carry out their own research projects. We were joined by two postgraduate students researching into social science at Oxford University. Danny Hatem explained his research into wavering voters and Priyanka Panchal told us about her research into bipolar disorder. Both pieces of research are fascinating, and it was a really motivating start to the day.
We then handed over to the students who carried out a range of projects including gender differences in our perception of body image, views on euthanasia, attitudes on whether new housing in Witney is sustainable and the strength of the family ideology in Witney. Danny and Priyanka gave us lots of useful advice on how to plan, carry out and present our research. They were very good at reminding us to consider the end, before planning the start!
Students carried out questionnaires, observations and interviews with a range of people. We were very lucky to be joined by some members of the Church congregation – who were willing participants in our research!
We were extremely impressed with the enthusiasm, hard work and maturity shown by our students. They all produced some wonderful posters of their work and then formed a long line of chairs across the Church and presented their research to each other. The winning group was Bela Doolub, Laura Amim and Jacob Cookson who completed a stunning project on synchronous interactions in adult conversations.