Year 11 Yearbook/Hoodies 2022
The Yearbook is your unique record of your time spent at The Henry Box School. We need your nominations for each award which will be included in the year book.
Another important element of every yearbook is your yearbook quote which sits with your picture on the profile pages.
We would also like any special memories you may have.
Thanks for taking the time to complete this survey. We really appreciate your input.
Thanks,
The Yearbook Team
How to order Yearbooks and Hoodies
To order simply click on the link below:
Deadline for orders: Yearbooks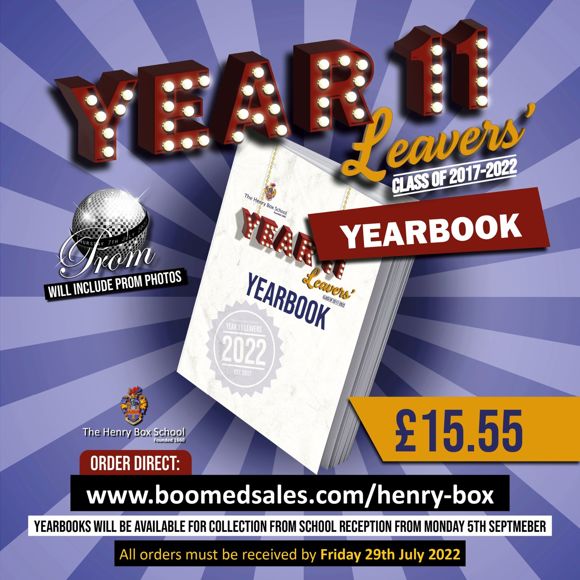 The yearbook costs £15.55. All orders must be received by Tuesday 19th July 2022. We are unable to honour any requests for yearbooks after that date. Please order now to avoid disappointment.
Yearbooks will be available for collection from school reception from Monday 5th September 2022.
Consent and Questionnaire Link
In line with GDPR regulations, we need to obtain each student's consent for photographs and names to appear in the yearbook, and for names to appear on the hoodies. Copies of the yearbook are only available to Year 11 students for their private use and are only available to purchase through The Henry Box School. It would be appreciated if your Year 11 child could complete the permission section of the form below by Friday 8th April 2022. It is really important that consent is provided by this date, the questionnaire can be amended after this date if your child decides they want to add or change information that will be included in the yearbook.
To give consent and complete the yearbook questionnaire, please go to the form on the following link:
Consent and Yearbook Questionnaire