Apprenticeship Opportunities
Oxfordshire Apprenticeships
The purpose of this labour market bulletin is to inform young people - and those that advise them - including teachers, parents, carers, careers advisors and others, of the employment trends and job opportunities available locally, now and in the future.
Thought about an Apprenticeship? Check out the the downloads below for an informative presentation on all things Apprenticeships from Oxfordshire Apprenticeships.
Gov.UK
Find an apprenticeship. Search and apply for an apprenticeship in England.
Active Apprenticeships
Through Activate Apprenticeships, young people can get in and go far with some of the UK's biggest and brightest companies.
GetMyFirstJob
GetMyFirstJob offers you a whole new way to find your first Apprenticeships & Traineeships job, with the best employers and training providers.
ACE Training
ACE Training is a specialist construction training centre based in Kidlington, Oxfordshire.
Providing quality pre-apprenticeship programmes and Apprentice training in Brickwork, Bench Joinery, Construction Operations (Groundworks), Maintenance Operations and Site Carpentry as well as introductory and part-time courses, OSAT and schools programmes.
We run roll-on/roll-off programmes and offer flexible start dates so you can begin training with ACE at any point during the year.
2019 Open Morning Dates. Click here for further details and information on Saturday Open Mornings. These open mornings have proven really useful for prospective students and employers to take a look around and talk to the team. Appointments for visitors at other times can be arranged to suit.
March 2019 Open Evening for Year 11 families. Click here for futher information.
Engineering Trust
The Engineering Trust have set up a Registration page for young people who are interested in Engineering. If you register with them they will keep you up to date with their latest news, vacancies and events.
Please follow this link to complete the Registration form.
Apprenticeship opportunities with the Engineering Trust: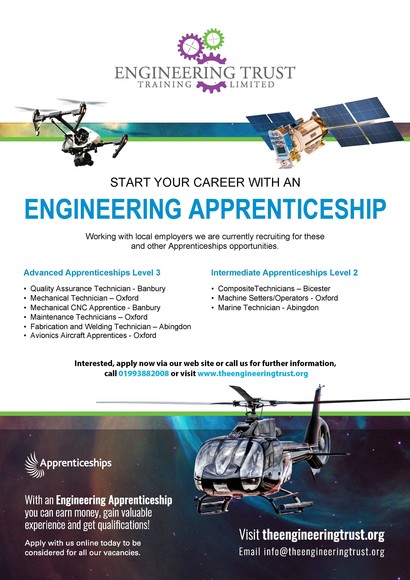 Owen Mumford
Engineering Apprenticeship: Tooling Technician
Details of the role can be found here.
Visit Midland Group Training Services to apply.
Abingdon and Witney College Apprenticeships
Please follow this link to see the current list of apprenticeship vacancies with Abingdon and Witney College. Click here to apply for any of the vacancies or visit the Government find an Apprenticeship web page to search for apprenticeships in your area.
NHS
At Oxford University Hospitals we offer a variety of education, training and development opportunities for new and existing staff, including apprenticeships both for young people and existing OUH staff.
Visit their website by clicking here.
Careers Thames Valley Police
https://www.thamesvalley.police.uk/join-us/
Police Constable Degree Apprenticeship (PCDA) with Thames Valley Police
Recruitment for the new Police Constable Degree Apprenticeship (PCDA) – this will be one of two main routes into policing once it's introduced. The other route is the Degree-Holder Entry Programme for people who already hold a degree in another subject.
The PCDA will be a three-year programme of blended academic and 'on-the-job' training, with student officers being warranted from day one. Applicants may require 2 A 'Levels plus have met our other eligibility requirements including age over 18, citizenship, drivers licence at point of formal offer, be in good health – they will have to pass a fitness test and also be able to pass our tattoo/piercings policy.
There are no tuition fees as all learning is paid for via TVP's apprenticeship levy. Student officers will do a blended programme of learning, much of which will be on-the-job – they will need to gain their Independent Patrol Status and Full Operational Competence during their probation – once they have passed their learning will be accredited with a Degree in professional Policing Practise. They will also then be able to look at promotional and specialisation routes.
5397-Apprenticeships-and-new-pathways-leaflet-REPRO-v1-03-10-18.pdf
Peter Brett Associates: Apprentice Structural Technician​
Peter Brett Associates, civil engineering consultancy are offering a Level 3 Apprentice Technician opportunity in thier Oxford office. For further information visit teh website link below:
https://careers.peterbrett.com/vacancies/vacancy-details.aspx?VacancyID=584
Ignite Sport UK
Ignite Sport UK is a leading training provider in the provision of sports-related apprenticeships, NGB awards and vocational qualifications.
Apprenticeships are available at Intermediate Level (2) and Advanced Level (3) for individuals wishing to develop a career in an exciting industry. Our apprenticeships are suitable for 16-18 year olds as well as 19+ learners with a strong interest in sport, leisure or play. Ignite Sport UK will identify suitable vacancies and prepare your application. Upon successful placement, Ignite Sport UK will provide full training, qualifications, mentoring support and guidance throughout your journey.
Website: https://www.ignitesportuk.com/
AirTanker
AirTanker's Aeronautical Engineering Apprenticeship Scheme: If you interested in Aviation and looking for a challenging opportunitywithin a dynamic engineering environment? Click here for more information.
Abbott
Level 3 Advanced Engineering Technical Apprenticeship scheme. Click here for more information.
Closing date is 2nd April 2019. Please submit your CV and cover letter to witneyapprentices@abbott.com
OAS
Oxfordshire Advanced Skills (OAS) offers high quality training for apprentice engineers and technicians at technology businesses in the Thames Valley.
Website: https://www.oas.ukaea.uk/
Engineering Apprenticeship available with OAS. Available to Year 11 and Year 13 leavers. Click here for current apprenticeship opportunities.
OEA
Oxford Energy Academy (OEA) is Oxfordshire's leading training provider for plumbing and heating apprenticeships.
Website: https://www.oxford-energy-academy.co.uk/
Mercedes-Benz
We recruit and train apprentices for our franchised sites, with vacancies available throughout the whole of the UK. Apprentices train as Light Vehicle, Heavy Vehicle or Semi-skilled Technicians or for those wishing to gain skills in a sales or customer service role we have our Retail Parts Advisor or Customer Service Specialist.
Mecedes-Benz Apprenticeship Programme.
To find out more and make an application, please visit our website www.mercedes-benztraining.co.uk/apprenticeships
To speak with one of the team, call 01908 301496 or e:mail: mb.apprentice.academy@daimler.com
Rolls Royce Apprenticeship opportunities
Learn from the best. We're a global business, with a proud history and brilliant future ahead. With us, you'll be working with world-class engineers and other professionals who are passionate about passing on their experience and helping you to build your future career.
Apprenticeships and School Leavers - Rolls Royce
Norbar Torque Tools
The Norbar Torque Tools apprenticeships are now open for applications. Please see our website for more details and how to apply:
https://www.theengineeringtrust.org/apprenticeships/current-vacancies/
THG Vehicle Repair: March 2019 to September 2019
Automotive Body Repair or Automotive Paint Repair Apprenticeship at THG Vehicle Repairs (Witney)
Please contact Mat Forder on 01993 700889
Website: http://www.thgwitney.co.uk/
Simon Smith - Cotswold Hairdresser: Apprenticeship open March 2019
Trainee Hairdresser working in a Salon based in Chipping Norton.
Please contact Sarah on:
Phone: 01608 674 144
Mobile: 07984 446 606
Email: Sarah@BurntOrangeUK.com
Website: www.SimonSmithUK.com
WM Air Conditioning
WM Air Conditioning are expanding and are looking for engineers who would be keen to learn about air conditioning, installation, repair and maintenance. The are looking for two or three candidates who are keen to learn a trade and be shown the different aspects of air conditioning. There may be an opportunity for them to go to college to learn further.
For more information please contact:
Elaine Huckle
Office Manager
T: 01865 884333
M: 07760 881014
E: elaine@wmaircon.co.uk
Website: www.wmaircon.co.uk